---
The Significance of Ecommerce Bookkeeping
Ecommerce bookkeeping is the lifeblood of your online shop…
Online businesses have exploded in popularity over the past couple of years, and it is no surprise. Virtual shopping is more convenient, cost-effective, and accessible than traditional brick-and-mortar stores. But then again… There ain't no such thing as a free lunch - with the rise of ecommerce business comes a greater need for effective bookkeeping practices.
Whether you're selling on eBay, Amazon, Shopify, or any other platform, tracking your finances with bookkeeping management ensures the level of your success. Monitoring fundamentals including sales and costs is only a fraction of the information required to estimate cash flow balances, create a pricing strategy, or decide how to scale your company.
That's not it…
In this blog, we'll explore why bookkeeping is crucial for any ecommerce business. From keeping track of sales and expenses to ensuring compliance with tax laws, you'll discover how bookkeeping can help you make informed decisions and take your business to the next level.
So grab a cup of coffee and dive in!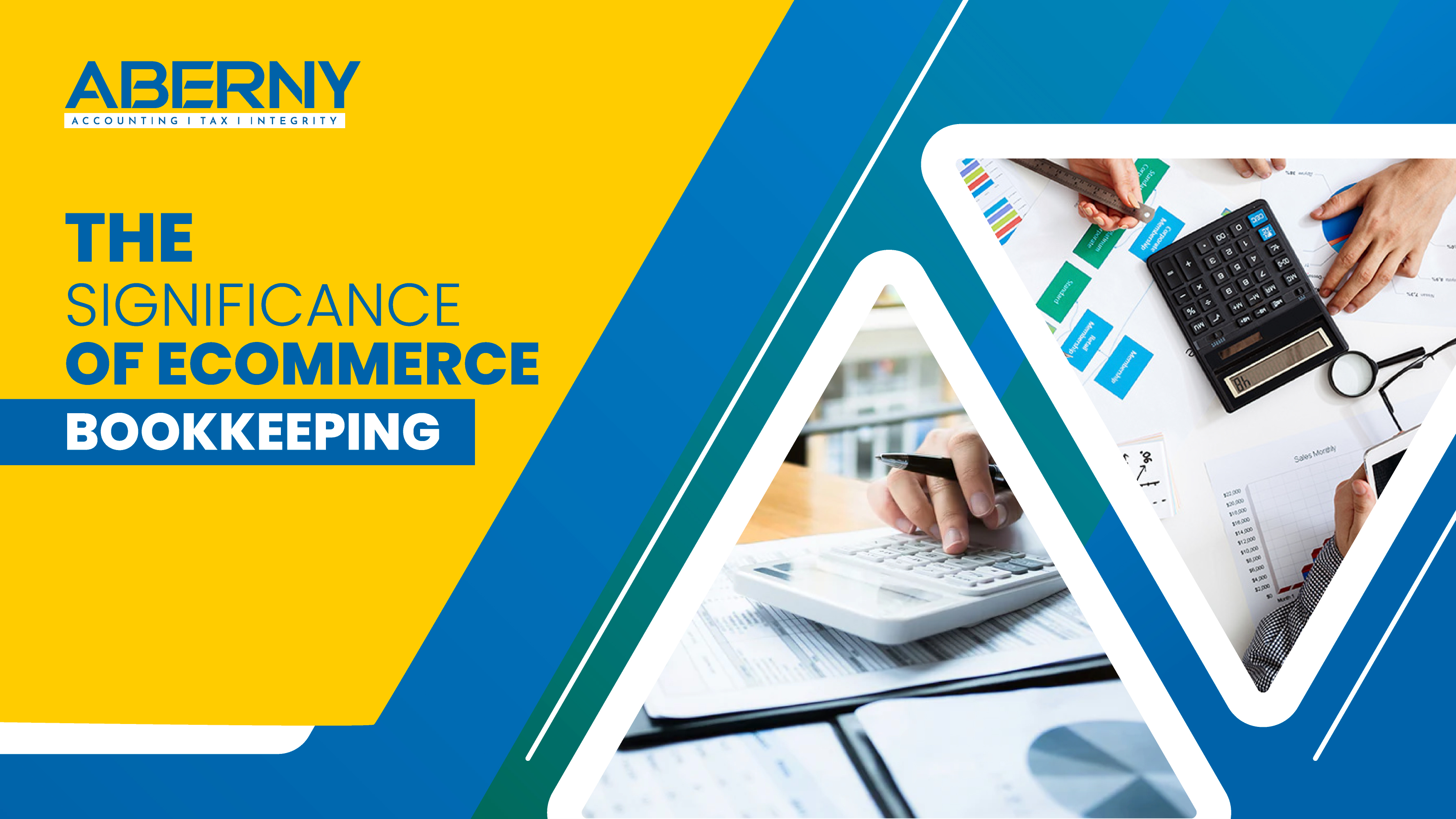 10 Reasons Why Ecommerce Bookkeeping Is Indispensable?
Bookkeeping helps in gauging the financial health of your online store while helping management make informed business decisions. Don't forget, ecommerce is on the boom and it's a fast-paced industry that is ultimately dependent on accurate and reliable information.
1. Determining Profitability
Ecommerce bookkeeping can help in accurately determining the amount of money your business is making. Furthermore, this information can be used in a variety of ways, including financial records submitted to funding resources (e.g., banks, investors, etc.) to ensure the business can make payments on time or as a foundation for assessing the company's past performance.
2. Managing E-commerce Cash Flow
Cash flow and profitability are not the same, but both can make or break a company in the competitive retail market. When you can see what you're earning and spending, you gain valuable insight into your profit margins, which can help you decide when to buy the stock, when to cut back, and when to invest in that new tool you've been eyeing.
3. Forecasting Financial Estimates
You can easily drive financial forecasts from the company's monetary history. Basically, it's a prerequisite for investors, lenders, and banks when a company offers to solicit funds. To be more specific, external financing is determined by how well-structured your financial forecast is on a business plan. Not just this, ecommerce bookkeeping helps management in making decisions regarding hiring, strategic planning, predicting revenue, and budgeting – helping you maintain a forward-focused mindset.
4. Creating Budget
Creating and adhering to a budget is critical for ecommerce business. A budget details the expenses that the company will have to cover, such as employee training, buying manufacturing materials and equipment, marketing costs, purchasing inventory, and more. This practice of budgeting helps is allocating the funds appropriately while assisting you to avoid spending beyond budget.
5. Helping in Future Decision Making
Financial data and other records gathered through bookkeeping assist entrepreneurs in making the best business decisions and policies. Bookkeepers have a significant influence on decisions such as how much to impose on a product or service, what resources are required to produce them, and how to optimize the business process overall.
6. Setting Competitive Pricing
Believe it or not… but the sales price is something that attracts market shares, entices new customers, and keeps old customers on board. Your efficient bookkeeping management can help you exactly determine how much profit you are making per sale. so you can make price cuts or raise your pricing to provide great value without sacrificing profit.
7. Complying With Regulations
Ecommerce Bookkeeping and compliance help prevent money laundering and fraud. Government regulators can assist in identifying and tracking down crooks who might be using online stores to launder money by necessitating companies to keep accurate records of their financial transactions. In simpler terms, ecommerce businesses should file periodic financial reports with the government to avoid penalties.
8. Building a Stable Business Model
Bookkeeping helps you prepare a budget, and tax returns, organize your company, and much more. Basically, a budget is a financial blueprint for your business. With a budget in place, you can plan for future business expenditures that will aid in development. Eleventh-hour stress, trying to locate any discrepancies in your financial statement may result in missed deadlines and minor errors.
9. Improving Customer Service
If you're like most company owners, you probably consider accounting and customer service to be distinct functions. However, good accounting can have a significant impact on customer service. Providing exceptional customer service is only the beginning of delighting your customers while keeping them coming back for more.
To provide excellent customer service, your bookkeeping department must provide accurate and timely financial information. Ecommerce bookkeeping could indeed help improve customer service in a variety of ways, including reducing order processing time, improving inventory management, and assisting in the identification of sales opportunities.
10. Tracking Transactions
Following all the bookkeeping fundamentals especially in the ecommerce industry would surely help you stay on track. No matter what platform you're using for your online shop, you must have a system to handle your money matters effectively. Not to mention, ecommerce business makes hundreds of sales every day and you cannot record each transaction manually. Hence proper recording is needed to keep track of all the transactions.
Conclusion
Regardless of the above-mentioned points, bookkeeping helps you achieve steady profits in the long run. Not just this, bookkeeping can save you money, time, and effort while eliminating hours of manual work. Above and beyond, it emphasizes on the figures that are most important to strategy and success.
Keep in mind that bookkeeping management can assist you and your business with a variety of tasks. An experienced e-commerce accountant can often detect problems before they occur and make recommendations on how to resolve them.
However, if you are on the lookout for professional ecommerce bookkeeping company – Aberny is always at your service.