---
The Vital Role of Physicians Bookkeeping in Healthcare
Indeed, accurate and organized financial records are essential for running the healthcare sector successfully. Yet physicians receive little formal training on the financial and administrative aspects of running their practice. This lack of business knowledge can lead to disorganization, financial loss, and regulatory issues.
Here physicians bookkeeping comes to the rescue… Bookkeeping is the foundation that supports a successful medical business. Besides, detailed financial records allow physicians to track revenue and expenses, provide data for budgeting, and demonstrate earnings for taxation purposes.
Bookkeepers ensure bills get paid on time, collections are pursued, payroll is processed properly, and taxes are filed accurately. Plus, bookkeepers help physicians make sound business decisions by providing critical financial information like budget tracking, profit and loss statements, and balance sheets.
In today's intricate world of healthcare administration, it is vital for physicians to partner with experienced medical bookkeepers. Doctors can then devote their energy to what they do best - healing and caring for patients. With robust bookkeeping support, physicians can operate an effective and successful practice.
Further in this blog post, we will explore the role and benefits of outsourcing this work to a professional.
10 Key Roles of Physicians Bookkeeping in the Healthcare Sector
Medical practices require diligent bookkeeping. Bookkeepers handle the crucial paperwork and processes that keep a practice operating smoothly. From tracking accounts receivable and payable to producing financial statements, bookkeepers oversee the numbers so doctors can focus on patients.
Keep reading…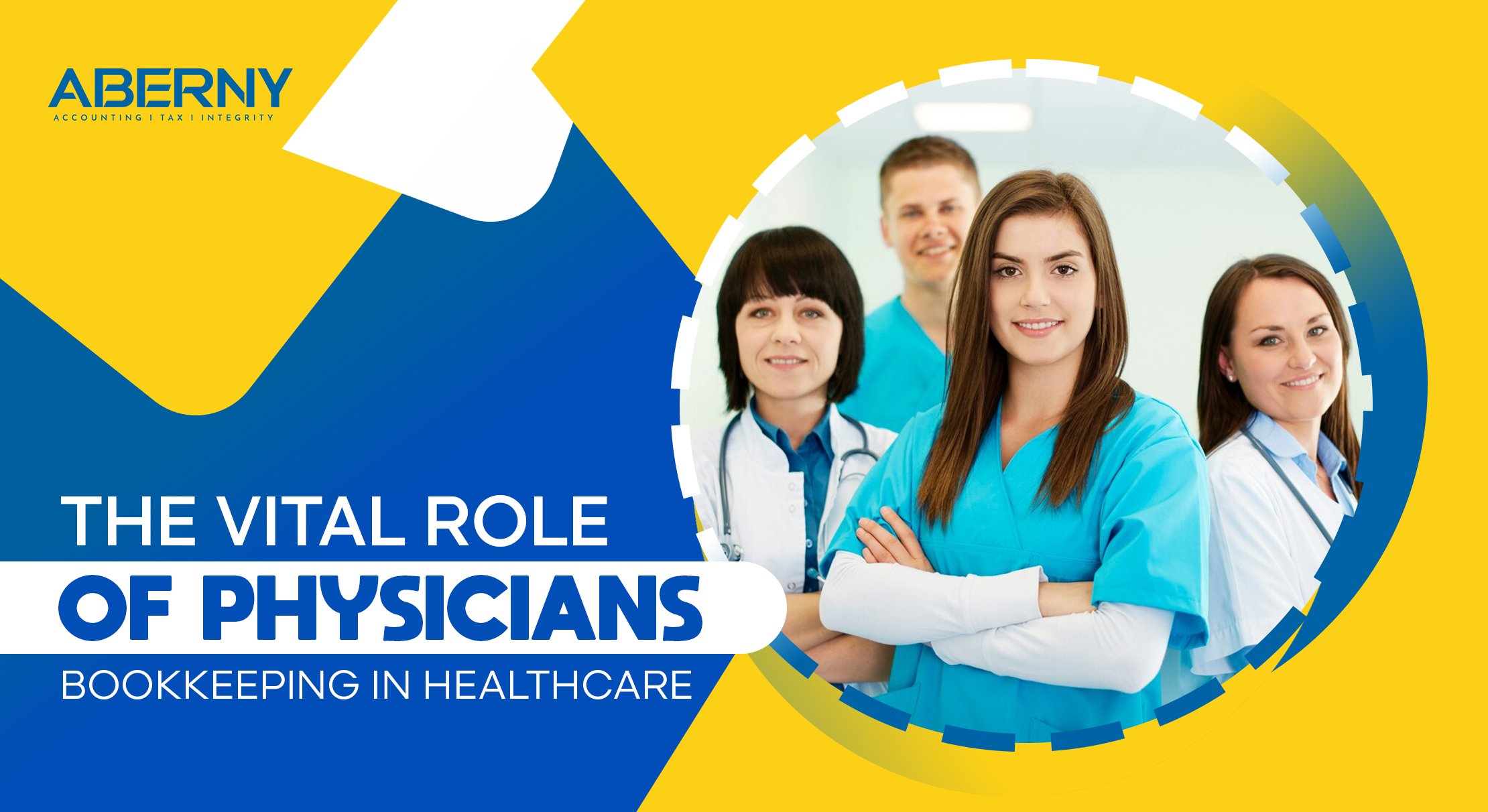 1. Process Patient Billing and Insurance Claims
physicians bookkeeping service providers are experts in medical billing procedures and coding which is essential to file claims accurately. Moreover, they handle the entire insurance claim process from coding services provided, to submitting claims, to following up on any unpaid or denied claims. Their exceptional knowledge of billing procedures helps maximize reimbursement.
2. Follow Up On Outstanding Payments and Collections
Obviously, it is essential in the healthcare sector to take updates regarding outstanding payments and bookkeepers perform this task responsibly. They play a crucial role in monitoring accounts receivable and utilizing appropriate techniques to collect unpaid balances.
Moreover, they contact patients with outstanding bills and insurance companies that have not paid claims in a timely manner. Not just this, they take follow-ups from the vendors as well – responsible for providing machines and other necessities to the hospital. Diligent and regular follow-up on collections ensures revenue is not lost.
3. Track Accounts Receivable and Payable
Comprehensive tracking of what is owed to the healthcare practice as accounts receivable and what the practice owes to vendors as accounts payable is an essential bookkeeping responsibility. Physicians bookkeeping service providers record patient payments received and payments from insurance companies for submitted claims.
On the payables side, they manage critical payables like equipment leases, bills from medical suppliers and vendors, payroll processing and taxes, licenses, and other recurring financial obligations of the practice. Maintaining precise accounts receivable and accounts payable records ensures that the practice always has an accurate picture of what it is owed and what it owes.
4. Manage Payroll and Taxes
Well, managing payroll and taxes single-handedly is not an easy nut to crack - Bookkeepers handle all aspects of payroll including calculating pay based on hours worked, deductions, leave time, bonuses, and commissions if relevant. Besides, they also ensure regular payroll tax filings and payments are completed accurately and on time.
5. Produce Financial Statements and Reports
A critical bookkeeping function is the preparation of regular financial accounts and reports. On a monthly, quarterly, and annual basis, bookkeepers create crucial records such as profit and loss statements, balance sheets, cost reports, cash flow statements, and revenue analyses.
These financial reports provide critical information that is used to drive both strategic choices and day-to-day operations in the medical practice. Robust financial reporting allows for the optimization of budgets, costs, staffing plans, and other essential business variables for a successful practice. Bookkeepers keep the physicians and management team informed through rigorous recordkeeping and reporting.
6. Develop Budgets and Cash Flow Projections
Physicians bookkeeping service providers produce detailed budgets annually or quarterly to help the practice manage resources efficiently. Budgets set financial goals, forecast expenses, and identify areas to reduce unnecessary costs. Cash flow projections outline expected future income and expenses for stability. Together budgets and cash flow forecasts provide a financial roadmap for smart management.
7. Reconcile Bank Statements and Accounts
Each month bookkeepers thoroughly reconcile bank statements and account activity for accuracy. They check activities in the medical practice's bank accounts and credit cards carefully while comparing deposits, withdrawals, fees, and interest generated to the practice's internal financial records.
They identify and investigate any anomalies or unusual behavior. Bookkeepers will fix any errors and make adjustments to ensure that the practice's books match the transactions recorded by banks and credit card companies. This rigorous reconciliation is essential for identifying potential issues and maintaining correct financial records.
8. Ensure Compliance with Regulations and Reporting Standards
Bookkeepers must be well-versed in healthcare compliance requirements and financial reporting standards. From medical billing rules to HIPAA regulations to tax codes, healthcare bookkeepers guarantee that the practice's financial documentation and activities follow all applicable regulations.
Physicians bookkeeping service providers keep up with changing regulations and norms for coding, documentation, record keeping, and reporting. Bookkeepers also advise physicians on compliance, file essential paperwork, and help audits and investigations run smoothly by maintaining accurate, compliant records.
Their regulatory knowledge is critical in avoiding penalties and displaying financial diligence.
9. Maintain Patient Account History and Payment Records
It is vital to meticulously document all patient account activities. Bookkeepers keep records of every patient transaction, from visits to insurance claims to payments made. Because all information on services delivered and cash owed or received is documented, these detailed payment files assist in effective insurance billing and collections operations.
Complete records also help to avoid errors and disputes over previous payments. Bookkeepers can create thorough patient account histories that include all transactions, outstanding balances, and payments made over time. Every patient encounter requires accurate documentation.
10. Identify Revenue Gaps and Cost-Saving Opportunities
Bookkeepers are responsible for reviewing the practice's financial data to identify patterns, anomalies, and chances for improvement. Bookkeepers discover flaws that may be affecting profitability, limiting income, inflating expenses, or causing cash flow problems by reviewing profit and loss accounts, revenue reports, balance sheets, and cash flow.
Bookkeepers can recommend targeted modifications and provide practical advice to help maximize financial performance and strengthen the firm once they have a thorough understanding of the practice's finances. Ongoing financial analysis is essential for long-term success.
Conclusion…
Doctors can analyze revenue and expenses, optimize cash flow, find areas for cost savings, budget effectively, and make educated decisions regarding investments in equipment, staff, and facilities with proper financial record-keeping and analysis.
While many doctors regard bookkeeping as a hassle, working with skilled medical accountants and installing user-friendly practice management software helps free up doctors' time so they can focus on providing exceptional patient care.
With the complexities of healthcare billing and changing reimbursement methods today, healthcare providers must have solid financial oversight and data to succeed.
Though not a required part of medical school, physicians who appreciate the benefits of bookkeeping and commit time to understanding their finances will be better positioned to provide patients with long-term quality treatment.
BTW: Aberny can provide Physicians bookkeeping service while helping you stream all your operations – Get in touch!