---
The Top 8 Benefits of Online Bookkeeping: Simplifying Financial Management
Numbers, numbers everywhere! As a small business owner, your days are filled with tracking invoices, payables, receivables, expenses, profits, and more numbers. Well, it is enough to make your mind to whirl like a roulette wheel.
But before you gamble your business's financial records away, take a strategic bet on online bookkeeping. Yes! You read that right. This modern approach of online bookkeeping for small businesses could be your jackpot to simplifying financial administration so you can get back to the part you love - running your thriving company!
We know you didn't wake up today thinking about digital bookkeeping. But stay with us, it's about to get interesting! With a few clicks, you can easily sync your bank accounts to categorize transactions automatically. Better yet, you will get an updated overview of the finances so that you can make data-driven decisions.
With online solutions handling the nitty gritty number details, you can emphasize on the big wins for your business. Moreover, digital bookkeeping streamlines your accounting process while helping in effective financial management.
Let's move ahead and explore the maximum benefits businesses can reap through digital bookkeeping systems.
Top 8 Benefits of Online Bookkeeping
Digital bookkeeping is quickly taking over as small business owners' preferred method. It is transforming the time, effort, and resource requirements of conventional bookkeeping approaches. Compared to traditional bookkeeping, it is more effective, convenient, and economical.
But how exactly does online bookkeeping give small businesses a leg up? Let's count the ways.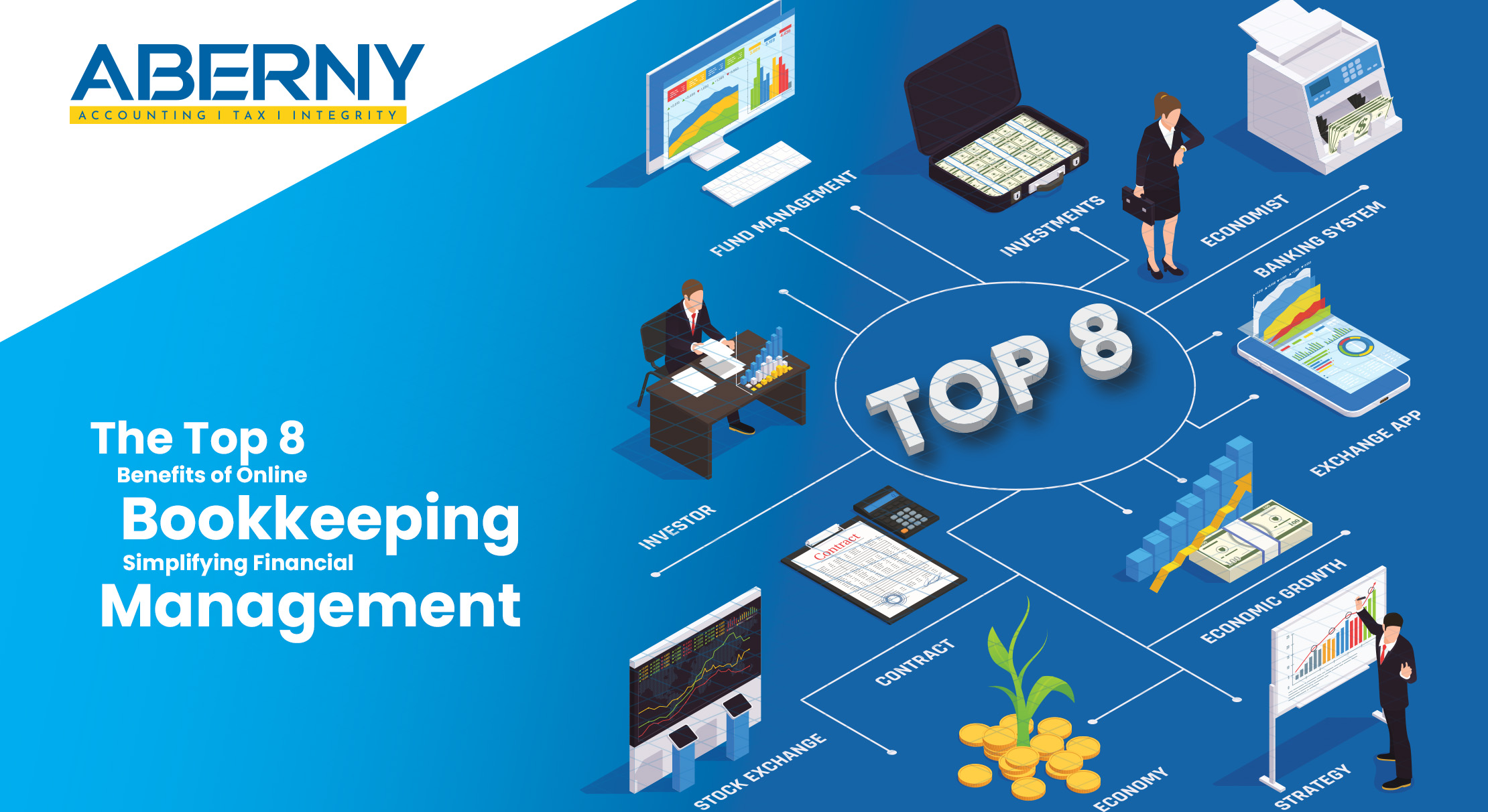 1. Integrations
One of the major advantages of digital bookkeeping is its ability to link with other business software, enabling seamless data flows between systems.
For example, the bookkeeping platform can sync with your eCommerce store to automatically import sales orders and customer payment information. Integrations with POS systems mean point-of-sale transactions can be directly logged within your accounting books.
Payroll processor integrations will automatically add payroll entries rather than having to manually enter wage data. Eliminating tedious manual data entry not only saves your precious time but also reduces errors.
2. Invoice generation
Indeed, billing clients promptly is critical for small business cash flow. Here digital bookkeeping services come in handy! it quickly creates customized, professional invoices right within your accounting system.
You may add your logo, choose payment conditions, personalize fields, and automate recurring invoices for regular clients using user-friendly templates and built-in features. Furthermore, it only takes a few clicks to send bills straight by email. To ensure receipt, the system will even monitor when invoices are opened.
With seamless invoice generation, small businesses can get paid faster. And with notifications when payments are made, you can immediately reconcile payments in your books for accurate financial reporting.
3. Expense tracking
Precisely monitoring each minor expenditure is crucial for asserting tax deductions. Online bookkeeping makes it easy with mobile application that allow you to take picture of receipts on the go.
The data is automatically extracted and categorized within your accounting books. You do not have to sort through piles of crumpled paper slips! Above and beyond, robust reporting also simplifies identifying deductible expenses when it's time to file taxes.
No detail gets missed, ensuring you claim all eligible write-offs. With streamlined expense capture and reporting, small businesses can maximize tax deductions and reduce their tax liabilities.
4. Inventory management
For small firms, keeping an eye on inventory levels is essential to preventing expensive stockouts. Some digital bookkeeping platforms include enhanced inventory monitoring in addition to standard accounting. You may optimize reorders and find dead stock to sell with the help of real-time visibility into stock counts across numerous warehouse sites.
Additionally, when products are sold online, interfaces with eCommerce platforms also immediately update inventory levels. Strong inventory management systems integrated into bookkeeping platforms improve supply chain efficiency for small shops and businesses.
5. Artificial intelligence
This one is a biggie…
AI capabilities like optical character recognition provide major time savings for small businesses. When invoices and receipts are uploaded or photographed, AI can automatically extract and input key details like dates, amounts, and vendor names into appropriate accounting categories.
The AI does the boring "data grunt work" so you may concentrate on strategic goals. Small business owners can receive timely financial information without delay or error thanks to an artificial brain managing typical bookkeeping operations.
6. Data visualization
Making sense of pages of financial statements and spreadsheet numbers can be daunting for small business owners without any expertise. Online bookkeeping provides intuitive data visualizations that interpret complex accounting data into comprehendible graphs and charts.
You may quickly and easily access visual insights into important financial parameters like as cash flow, profit and loss over time, top clients, expense breakdowns, and others by making a few clicks.
Small business owners without accounting training can better understand significant trends and possibilities without having to do their number-crunching thanks to simplified visual representations of bookkeeping data.
7. Payroll management
Managing payroll in-house can be difficult for small businesses when accounting for taxes, deductions, and reporting requirements. However, integrated payroll services with digital bookkeeping provide easy set-up of pay schedules, salaries, bonuses, and deductions.
Above all, automated tax calculations remove headaches at tax time. Employee pay details effortlessly flow into financial reports, reducing manual entry.
With secure employee self-service portals, you can offload answering common payroll questions. Outsourcing payroll to user-friendly bookkeeping platforms eliminates hassles while maintaining tax compliance.
8. Customer billing portals
Maintaining transparency and collaboration with clients is essential for business success. You can make secure online client portals integrated into bookkeeping platforms. With the help of these online bookkeeping platforms, you can easily share live financial data
Clients can log in anytime to view outstanding balances, and payment history, and download accounting files without having to email back and forth. Keep in mind, that automated payment reminders and the ability for clients to pay online improves receivables management.
Streamlined communication and paperless workflows via client portals save time while providing transparency into financial dealings, strengthening small business customer relationships.
Conclusion…
The bottom line is that online bookkeeping provides small businesses with invaluable time and money savings through automation, integration, and simplified financial management.
By leveraging online platforms to organize accounting in the cloud, small enterprises can easily focus on growing their business, not balancing the books. Better yet, you gain valuable insights to make informed decisions that not only make your business in the short run but in the long run too.
If you think, it will be costly, you can opt for affordable subscription plans that enable small businesses to do more with less.
You can add automated data backup, expert access, always up-to-date regulatory compliance, and seamless integrations with other software, and it's clear why modern online bookkeeping is the future for streamlining finances.
FYI: If you need help with online bookkeeping for small businesses, Aberny should be your choice – their experts can help you gain a competitive edge.