---
The Role of a Florida Bookkeeping Service in Streamlining Your Business Operations
Indeed, bookkeeping can be a tedious and time-consuming job.
While some business owners might try to handle it themselves - but partnering with a professional Florida bookkeeping service can streamline your business operations while providing valuable benefits.
Of course, you need help! Bookkeepers handle the nitty-gritty accounting stuff so you can focus on the big picture of growing your biz.
You must be wondering how they can assist you… bookkeepers handle necessary accounting tasks including tracking income, reconciling accounts, payroll processing, and more.
To be precise, they organize the financial information while making sure that the numbers add up. With bookkeeping services by your side, business owners can get free time to focus on higher-level strategic tasks that help the company grow.
Beyond the basic services, bookkeepers provide insights to maximize cash flow, minimize tax liabilities, discover cost-cutting opportunities, and manage key performance metrics.
Overall, bookkeeping service in Florida is a useful tool - whether you're a little start-up or a well-established business, bookkeeping service may help you tremendously.
Let's explore in detail how bookkeeping/accounting services in Florida can streamline your business operations.
10 Key Roles a Florida Bookkeeping Service...
...Play to Enhance Business Efficiency:
Well, the right bookkeeper acts as a financial advisor that provides insights leading to data-driven decision-making. Moreover, by having bookkeepers by your side you can gain peace of mind that your finances are managed by professionals only.
Let's see how they can help…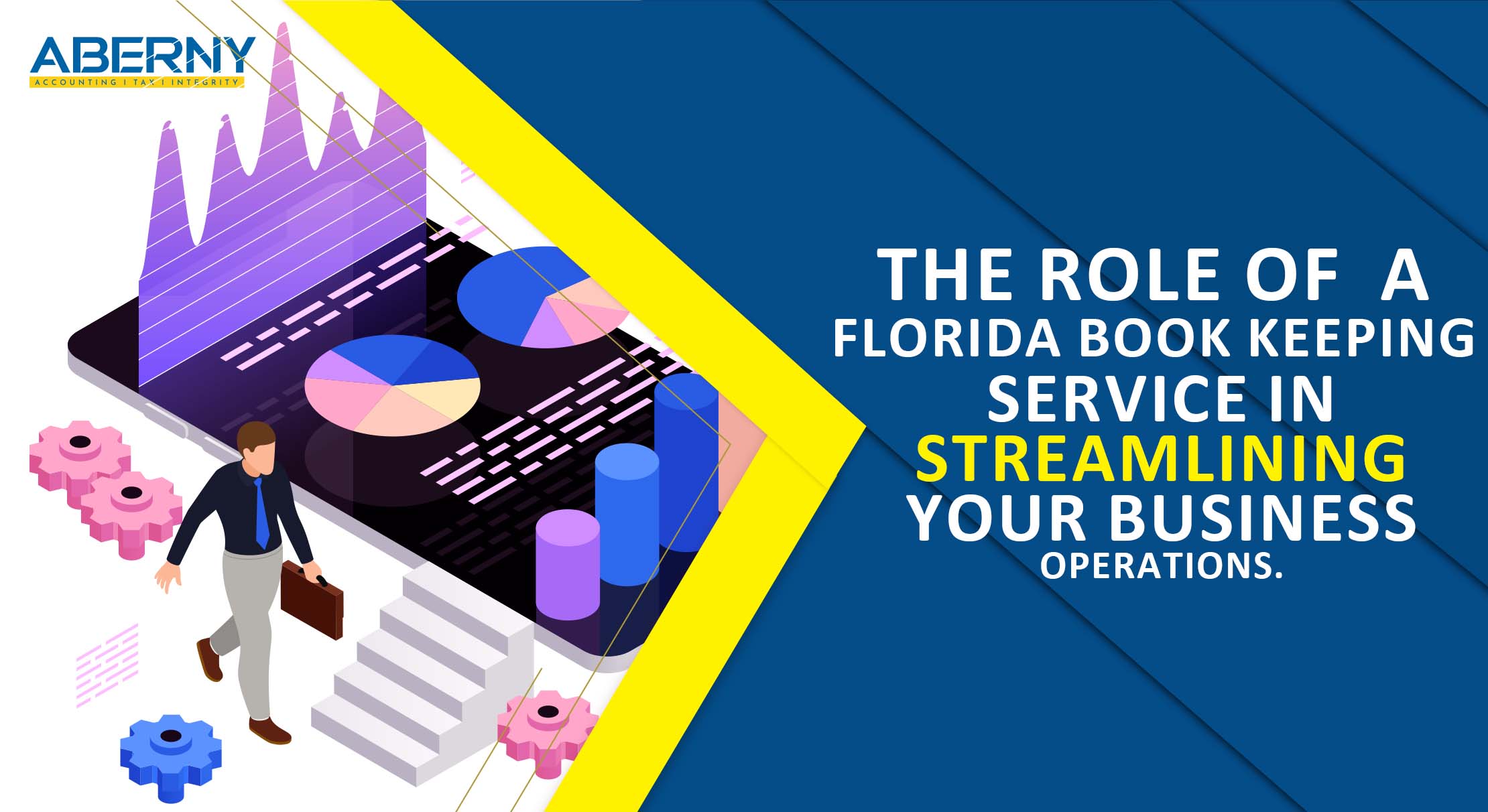 1. Reconciling Accounts and Managing Bookkeeping Activities
Keep in mind these are the core roles of a professional Florida bookkeeping service provider. By carefully reviewing ledgers and accounts, they identify any potential errors and discrepancies. Not just this, they make necessary corrections while ensuring the accurateness of the data.
No doubt performing the day-to-day duties of recording transactions, updating accounts, and preparing reports keeps the books tidy and gives owners an up-to-date perspective of the company's financial health.
2. Processing Payroll and Managing Payroll Taxes
Handling payroll and payroll taxes is a critical but time-consuming operation that benefits immensely from being outsourced to a professional bookkeeping firm.
The bookkeeper will efficiently compute each employee's wages and relevant taxes on each payday, process payments, file appropriate documentation, and transmit payroll taxes to government authorities.
Besides, keeping up to date on new tax regulations and forms reduces the possibility of errors. With bookkeepers, the business owner is relieved of this administrative burden, allowing them to concentrate on higher-level responsibilities.
3. Tracking Income and Expenses
A crucial bookkeeping responsibility is meticulously monitoring all revenue and expenses. Keeping track of every dollar that comes in and goes out provides insight into where the money is going.
Here bookkeepers come in handy! They perform all the work of tracking every transaction so that owners may make confident strategic and operational decisions based on reliable financial data.
Better yet, Florida bookkeeping service providers analyse cash inputs and outflows that reveal expenditure patterns and seasonal swings, allowing for more accurate planning and forecasting. With complete visibility into the components of a company's profitability, owners can identify chances for revenue development or places where costs can be cut.
4. Preparing Financial Statements
Bookkeeper services providers are responsible for accurately preparing financial documents including balance sheets and profit and loss statements. With the help of up-to-date financial accounts, business owners can easily comprehend their company's financial health at any given time.
Revenue, assets, expenses, equity, and liabilities are all tracked in these crucial records. With this bird's eye view, owners can spot positive or negative patterns in their money and take appropriate action. Keep in mind, well-prepared financial statements are essential managerial tools, that you cannot ignore.
5. Handling Accounts Receivable and Accounts Payable
Management of accounts receivable and payments is a vital Florida bookkeeping service activity. The bookkeeper maintains working capital by creating and maintaining invoices for clients and vendor bills, then following up on collection and making timely payments.
Collecting receivables as soon as possible and postponing payables whenever possible increases cash availability for the organization's needs. Owners who monitor these critical cash flow sources closely can reinvest funds and avoid high-interest debt.
6. Supporting Budgeting and Forecasting
There is no second thought about it that bookkeepers make substantial contributions to budgeting and forecasting by analysing financial data to model and estimate future performance. A bookkeeper can produce budget and forecast projections by evaluating past revenue and spending trends and adjusting for predicted changes.
Apart from this, better-informed business planning leads to more sensible investments and spending. While the bookkeeper crunches the numbers, owners may focus their efforts on making strategic decisions based on strong financial projections.
7. Managing Inventory and Monitoring Costs
Inventory management and monitoring are pretty essential for product-based businesses. The bookkeeper accurately records inventory quantities, purchases, and usage. This provides information about the turnover rate and where excess inventory may be tying up too much capital.
It is not as easy as it sounds, Florida bookkeeping service providers generate reports that help in optimizing ordering and stock levels. Moreover, this assists in satisfying sales demand while avoiding overstock issues.
Keeping track of the value of inventory and cost of products sold aids in pricing and profit decisions. Organizations may maximize the return on their inventory investments by keeping inventory under tight control with the assistance of a bookkeeper.
8. Processing Invoices and Billing
A bookkeeper assists a company's financial flow by preparing and processing invoices and billing correctly. They ensure that invoices are sent out on time and precisely so that clients understand how much they owe.
Better yet, bookkeepers then manage the collection of those receivables while following up with clients on bills to bring income more quickly. Also, they handle money proactively rather than waiting for payments to trickle in with rigorous billing and collections management.
Final Words…
Indeed, professional bookkeeping services can have a substantial impact on optimizing business processes. While bookkeepers take care of all the tasks, entrepreneurs can easily focus on growth and innovation. Besides, with reconciled accounts, managed inventory, and accurate payroll processing, owners gain invaluable time and mental bandwidth.
Beyond the details, bookkeepers provide high-level analysis and guidance to help clients make better decisions. Their knowledge of tax compliance, cash flow optimization, budgeting, and cost-cutting allows for data-driven management. Every Florida firm, whether a small startup or an established enterprise, can profit from outsourcing bookkeeping.
A right Florida bookkeeping service partner might be a strategic asset. Businesses may attain the streamlined financial operations and visibility required to reach their full potential by leveraging their expertise, analysis, and innovative solutions.
So, if you need a bookkeeping service in Florida – Aberny should be your choice.