---
The Importance of Physicians Accounting: How Your Medical Practice Can Be Transformed by Effective Financial Management
Indeed, managing the finances of a medical practice is beyond tracking revenue and expenses. Effective physician accounting is essential for controlling costs, maximizing reimbursements, planning for growth, and sustaining the overall health of your clinic. Without a firm grasp of the numbers, it's impossible to identify the areas for improvement or prepare a plan to boost your practice's bottom line.
That is why making financial health a top priority and implementing new management approaches could be the perfect prescription for your practice.
Although, executing processes for meticulous physicians bookkeeping should be a top priority. But with heavy patient loads, it's difficult to find time or acquire the expertise to implement robust financial controls.
Luckily, emerging online systems are making physician accounting easier and more accessible.
New accounting methods remove tedious finance tasks from your crowded daily schedule. Better yet, automated coding verification maximizes insurance reimbursements while reducing rejected claims. Analytics dashboards identify billing flaws and provide insights into service profitability.
Interesting?
Let's dig in a little deeper to see, how accounting can transform your medical practice:
8 Ways Physician Accounting Can Transform Your Medical Practice
From optimizing revenue to controlling overhead costs, physician accounting can have a transformative effect on your medical practice.
This helps you boost profitability and invest back into improving patient care. While balancing the finances might seem like a distraction from medicine, it doesn't have to be. The right accounting technology and expertise makes taking your practice to the next level.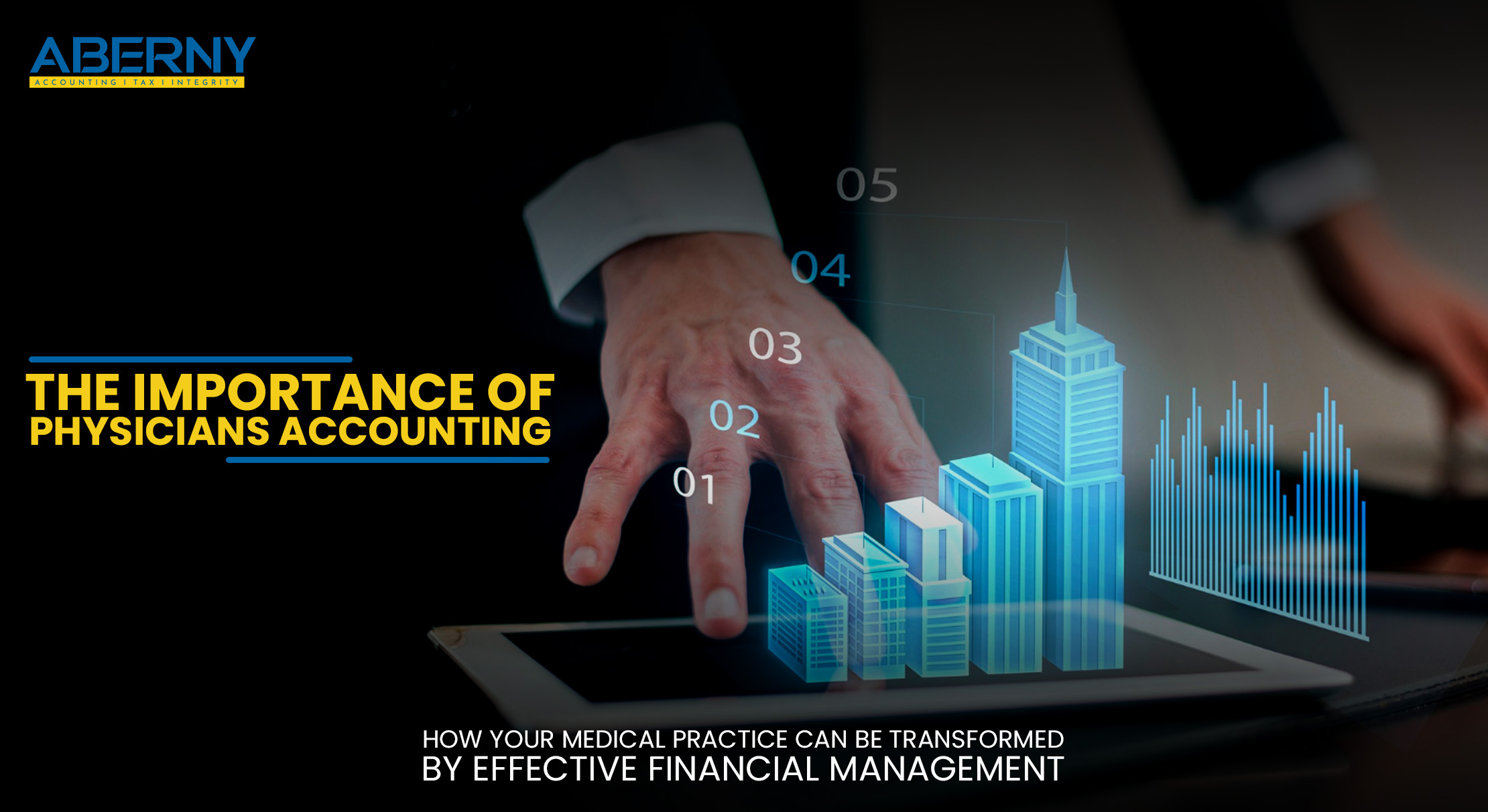 1. Predictive Analytics
Predictive analytics uses patient data to forecast patterns that can be used to improve practice operations. Predictive models can anticipate patient volume, no-show rates, and needed services weeks or months ahead by carefully studying historical visit patterns and billing cycles.
This allows for more intelligent personnel scheduling and resource allocation to meet expected needs. Besides all this, revenue and cash flow cycles can also be forecasted by models - allowing practitioners to maximize collections by mitigating bottlenecks. Overall, predictive analytics utilizes statistical modeling and AI to take out insights from data. This data is used to improve resource allocation and contribute to more efficient medical practice management.
2. Automated Inventory Monitoring
No doubt, managing the inventory of office supplies can be a daunting task. Here AI-powered physician accounting systems can help! They streamline the process by continuously monitoring stock levels across all items.
When integrated with order/billing systems, inventory data is analyzed to accurately predict the rate of consumption. ML algorithms then automatically generate purchase orders when supplies reach preset reorder points.
This ultimately eliminates the need for staff to manually track spreadsheets or periodically conduct time-consuming counts. Intelligent automation of inventory oversight ensures the availability of critical items and prevents costly disruptions to clinical workflows.
3. Revenue Cycle Dashboard
It is a real-time visual dashboard that analyzes each step of the revenue cycle while identifying bottlenecks that hinder cash flow. Moreover, key metrics like claims acceptance rates, days in accounts receivable, denial reasons, and payment posting times can easily be tracked.
The graphical representation of revenue cycle data allows for quick decisions without wading through extensive reports.
An analytical dashboard enables physicians to optimize billing operations for enhanced collections and fiscal fitness by giving an at-a-glance overview of the health of the revenue cycle.
4. Patient Payment Portals
Providing secure online bill payment options enhances patient convenience and increases collections. With the help of customized portals for physician accounting, you can provide access to statements, payment history, and balance dues 24/7.
In addition, flexible tools for paying outstanding balances or setting up installment plans improve patient repayment rates. You know it, Automated payment reminders and notifications further facilitate collections.
Moreover, integrations with EHR and billing systems enable real-time updating of account status. Portals also improve patient satisfaction and engagement.
Overall, incorporating user-friendly online payment systems reduces administrative costs of collections and gets practices paid faster while maintaining cash flow.
5. Macroeconomic Tracking
Macroeconomic trends including unemployment and insurance policy changes can greatly impact patient volume and revenue for medical practices.
Hence, it is important to track key economic indicators. It provides useful insights for financial planning and optimization. For example, rising local unemployment may necessitate building reserves to offset potential declines in patient visits or shifts to uninsured status.
Staying on top of planned healthcare policy improvements allows for modeling and projecting consequences on Medicaid/Medicare revenue streams.
Also, incorporating regular scanning of economic trends outside the practice provides a vital external viewpoint for predicting, budgeting, and making major financial decisions to support stability and growth.
6. Healthcare Policy Analytics
Changes in policy for programs like Medicaid and Medicare can have a significant influence on revenue streams. Conducting data-driven studies of possible changes allows for the estimation of potential reimbursement implications before policy implementation.
Furthermore, physician bookkeeping forecasting software can simulate scenarios under new laws to analyze the implications on total billings. This enables advanced planning and optimization to mitigate negative results.
Furthermore, the expert study identifies unique coding and billing techniques that are required to increase admissible claims. By proactively examining healthcare policy changes using advanced analytics, medical practices may translate uncertainty into actionable projections for sensible financial decisions.
7. Market Benchmarking
Benchmarking financial and operational metrics against competing local medical practices provides useful competitive insights. Comparing revenue per patient, overhead costs as a percentage of revenue, billing cycle times, staff productivity, patient satisfaction scores, and other KPIs to peers spots potential areas for improvement.
If local competitors are performing better on certain metrics, those represent opportunities to optimize. Enabling data-driven comparison to market standards helps transform financial management by applying best practices that work in the local healthcare environment.
Overall, regular benchmarking analysis yields actionable target areas to drive better financial performance.
8. Patient Flow Mapping
Analyzing patient flow through the office allows for identifying bottlenecks causing congestion. Mapping hourly appointment volumes and cycle times at check-in, exam rooms, testing facilities, and checkout reveals optimization opportunities.
Highlighting areas of patient wait times enables resources to be reallocated. Comparing historical patterns by day and season accounts for variability. Data-driven flow mapping provides visibility into patient experience, directing improvements in scheduling and staffing.
Smoothing patient flow not only improves satisfaction but also maximizes practice capacity and revenue. Overall, flow mapping provides transformative operational insights from financial data.
In a Nutshell
After all, physicians are responsible for providing care to patients, not calculating figures. In today's complex healthcare sector, however, efficient financial management is critical for maintaining a successful medical business.
The right physician accounting technology and experience can help you make data-driven decisions that maximize reimbursements, minimize expenses, improve efficiency, and drive growth.
This enables clinicians to concentrate on providing excellent care while harnessing financial data to move the business forward.
Making accounting a continuous focus and establishing rigorous analysis methods will pay dividends in enhanced profitability, stability, and capability to promote the practice's healthcare purpose.
So, if you think, you need help with physician bookkeeping – Aberny is your Go-To solution. Their expert team can handle all the tasks while helping you focus on your profession.