---
Doctor Bookkeeping Solutions: Trends for a Healthy Medical Practice
Staying on top of your finances is challenging for bookkeeping professionals with constantly changing regulations, technology, and patient expectations. However, doctor bookkeeping is the lifeblood of your practice - without diligent tracking of cash flow, compliance, and costs, your business suffers.
Hence, implementing the right financial processes and leveraging innovative tools provides the visibility and control you need to run an efficient, profitable practice. In this blog post, we will cover emerging trends - like switching to cloud-based accounting software, hiring outsourced bookkeepers, and tapping into analytics.
You'll also learn tips for boosting income, decreasing expenses, ensuring compliance, and driving growth long-term. Running a medical practice takes focus and dedication. Don't let bookkeeping take your time and energy away from patient care.
So, read on for bookkeeping trends that can contribute to a more robust financial outcome for your healthcare institution.
Top 12 Trends for Efficient Doctor Bookkeeping
From AI to Blockchain, new technologies are emerging to streamline and optimize the financial workings of modern healthcare organizations. So, staying current with the latest advancements is key to improving efficiency, reducing costs, and bolstering the bottom line.
Here are 12 cutting-edge trends that would help transform bookkeeping processes in the healthcare sector: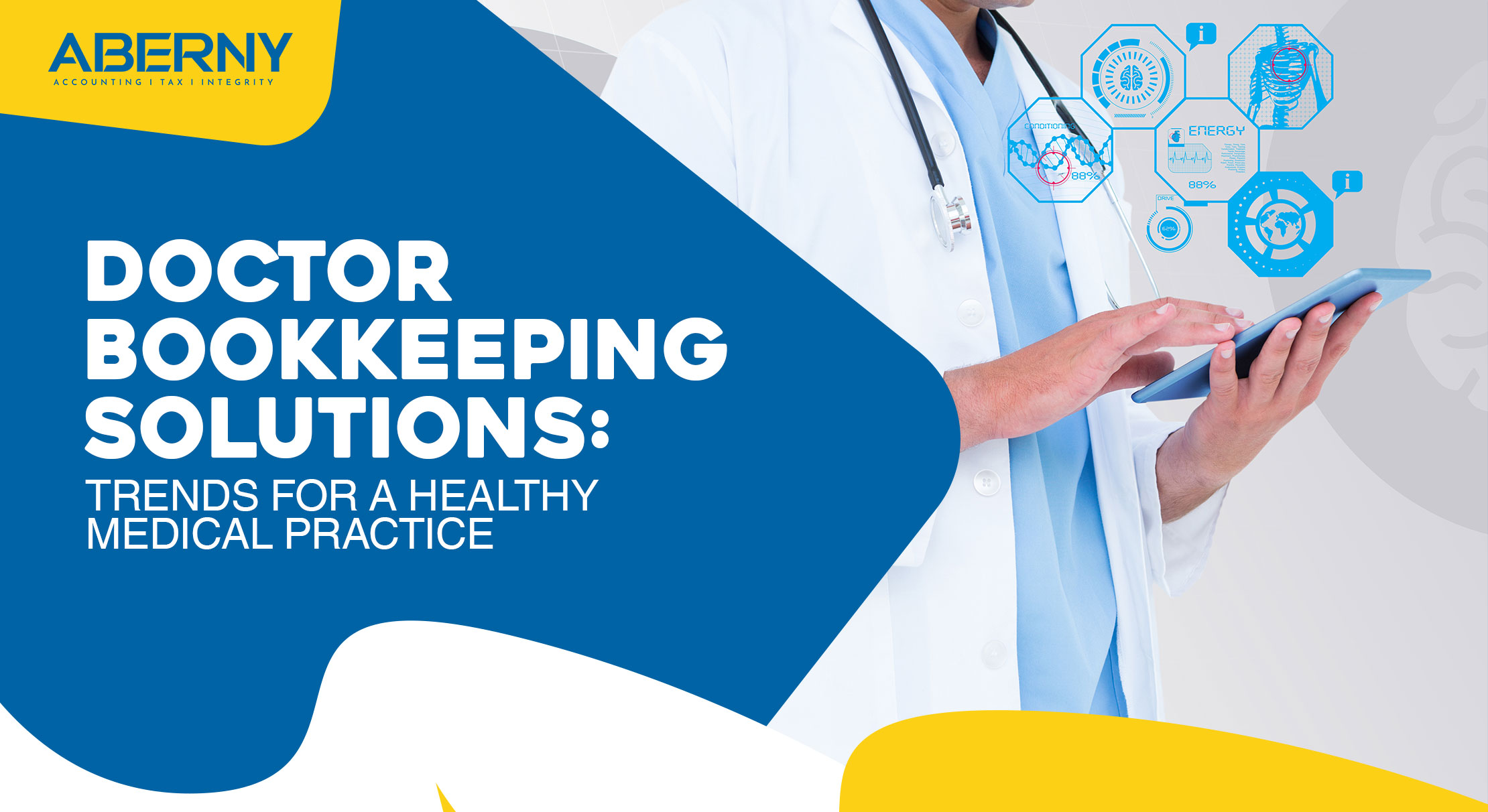 1. AI-Powered Coding
Natural language processing is used in AI-powered coding to automate clinical documentation analysis and extract key facts in order to apply the most correct medical billing codes for claims. Plus, this system eliminates manual bottlenecks, resulting in increased coding productivity and claim accuracy.
The automated approach to doctor bookkeeping provides accurate reimbursement while decreasing denials and shortening revenue cycles in the practice.
2. Blockchain for Billing
Well, you're not new to Blockchain technology… it has the potential to simplify and secure claims between healthcare providers, patients, and insurance carriers. By automating verifications and payments, this distributed ledger technology increases transparency, reduces processing costs, and eliminates claim errors.
As Blockchain technology improves, it has become an essential component in streamlining medical billing processes, improving cash flow, reducing denial write-offs, and building trust among parties.
3. Predictive Analytics
Predictive analytics uses artificial intelligence (AI) and complex statistical modelling to get deep insights from practice data. These technologies help in the identification of income leads with the optimization of financial performance while estimating future results.
Moreover, predictive analytics, which analyzes past claims, patient information, and cost drivers, enables data-driven decision-making to maximize reimbursement, reduce denials, retain patients, and proactively plan the practice's financial health.
4. Process Mining Software
Process mining software examines workflows automatically to find bottlenecks, inadequacies, and inconsistencies. When applied to medical billing and revenue cycles, it exposes optimization opportunities that would probably go unnoticed by manual examination.
This system provides continuous improvement to doctor bookkeeping by identifying process bottlenecks, quantifying cycle times, eliminating revenue leakage, and assuring protocol adherence.
5. Digital Payment Adoptions
New digital payment forms enable versatility, ranging from NFC tap payments to cryptocurrency. As digital wallets and mobile payments become more popular, incorporating options like Apple Pay and QR code payments gives patients convenience while optimizing collections for the clinic.
Better yet, healthcare digitization has left behind numerous industries due to its regulated nature, lack of data interoperability, and fragmented legacy systems.
6. Hybrid Cloud Integration
To improve storage costs and flexibility, medical practitioners are leveraging both public and private clouds. However, for sensitive healthcare data, we suggest you to opt for a hybrid cloud strategy that blends the affordability of public cloud infrastructure with the security benefits of private clouds. Moreover, this allows for scalable, HIPAA-compliant access to EHRs and financial data.
7. Automated Reconciliations
Of course, you cannot do the reconciliations on your own… here automated bank reconciliations come in handy. They improve productivity with accuracy while keeping every transaction streamlined. If you are concerned about the integration let us break the ice for you… this automated software seamlessly integrates with bank feeds to match transactions and identify discrepancies in real-time.
Keep in mind, that this would save your hours of manual work of doctor bookkeeping while improving accuracy. Better yet, with the help of automation staff can focus on other tasks that would bring in revenue.
8. Virtual Bookkeeping Assistants
To lessen staff workload, AI-powered helpers conduct bookkeeping responsibilities. Besides, to free up staff time, virtual assistants streamline accounts payable/receivable, payroll, auditing, reporting, and other tasks. Nowadays, they are increasingly relying on NLP and machine learning to increase capabilities over time.
9. Increased Outsourcing
Many clinics look for outsourced teams for coding, billing, collection, and other financial matters – as they possess the required skills and experience to handle the task professionally. With outsourcing, you can get access to specialized expertise in revenue cycle management which is difficult to justify. This allows the practice to focus on delivering excellent patient care.
10. Mobile Apps
Bookkeeping and practice management mobile apps enable simplified on-the-go workflows. Cloud-based apps allow tasks like checking schedules, processing payments, and approving expenses anytime, anywhere. Ultimately, this improves efficiency for busy mobile workforces by providing constant access and streamlined workflows through intuitive mobile app interfaces.
11. Keep Up with Regulations
Because healthcare is a highly regulated industry, maintaining compliance is critical. Yes! we're talking about doctor bookkeeping. From HIPAA to ACA reforms, clinics must stay on top of ever-changing regulations. It is critical to designate skilled personnel to manage compliance proactively, evaluate rules, give staff education, and implement essential procedures.
Keeping up with developing regulatory adjustments avoids future risks, audits, and penalties. Keep in mind, that noncompliance can result in significant fines and harm to the reputation, so remaining aware and ready to pivot is critical.
12. Lock Down Cybersecurity
Since medical practices keep extremely sensitive patient data, they are an easy target for cyber-attacks and data breaches. Hence, investing in strong cybersecurity tools and procedures can provide crucial security measures.
You can use HITRUST-certified EHR systems with built-in security, install antivirus software, demand strong passwords, limit access, encrypt devices, teach staff safe practices, and build an incident response plan are all part of the process.
Final Words…
Efficient doctor bookkeeping systems are the foundation of a successful clinical practice. Also, healthcare organizations can improve their profitability by staying up-to-date on the newest bookkeeping technologies and solutions.
Moreover, by implementing trends such as practice management software, automation tools, analytics, and more outsourcing develops a data-driven financial approach. This not only slashes down the personnel duties - but also provides visibility into the financial health of the organization.
Medical practices may devote their focus to exceptional patient care and next-level growth with proactive financial management enabled by technology. In addition, the financial future of the businesses is pretty bright that utilize the latest bookkeeping tools enhances efficiency and productivity.
FYI: if you're a medical practitioner looking for bookkeeping and accounting assistance – Aberny is always at your service. Get in touch now!